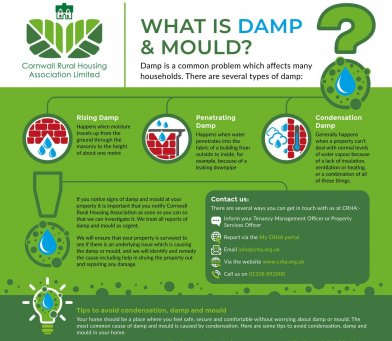 Damp is a common problem which affects many households. There are several types of damp:-
rising damp, which happens when moisture travels up from the ground through the masonry to the height of about one metre
penetrating damp, which happens when water penetrates into the fabric of a building from outside to inside, for example, because of a leaking downpipe
condensation damp, which generally happens when a property can't deal with normal levels of water vapour because of a lack of insulation, ventilation or heating, or a combination of all of these things.
If you notice signs of damp and mould at your property it is important that you notify Cornwall Rural Housing Association as soon as you can so that we can investigate it. We treat all reports of damp and mould as urgent.
We will ensure that your property is surveyed to see if there is an underlying issue which is causing the damp or mould, and we will identify and remedy the cause including help in drying the property out and repairing any damage.
There are several ways you can get in touch with us at CRHA:-
Inform you Tenancy Management Officer or Property Services Officer
Report via the My CRHA portal
Email info@crha.org.uk
Via the website – www.crha.org.uk
Call us on 01208 892000
Use our social media platform - Facebook - Cornwall Rural Housing Association
WhatsApp - 07885 591756
Your home should be a place where you feel safe, secure and comfortable without worrying about damp or mould.